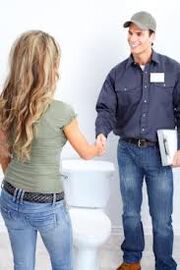 Giving your bathroom  a boost doesn't require a boatload of cash or space -- just a little planning and creativity before you get started. Refresh your bath's look with a wow-worthy makeover that improves its style and function. Whether you're planning to design your dream bath or simply update your existing one, start with these inspiring ideas to transform an ordinary bathroom into a relaxing retreat. Enhance your bathroom with impactful updates to add lasting value to your home. Get a fresh start by revising a layout, remodeling to add storage, or replacing fixtures. From hiring a professional to discovering projects you can do, our inspirational ideas, ultimate planning guide, and expert advice will guide you through the bathroom remodel process. If cost is a concern, try one of our budget updates to spruce up your space without breaking the bank. Keep these smart tips and ideas in mind for your bath projects, big or small.
Renovating Tips
Edit
If you've got an apricot suite or daggy tiles, professional re-spraying could be the answer. It's a great way to renew a bathroom and it costs up to 70% less than a complete fit out.
The non-toxic polyurethane spray is suitable for showers, baths and tiles and gives a fantastic hardwearing finish that can last up to 15 years; far longer than any tile paint.
If you do have to buy a new toilet, vanity or even tiles, check out the seconds warehouses or even auction houses because sometimes you can pick up remainder stock at a franction of the price.
To keep the budget down, try to work with your existing layout so you don't need to move the plumbing . It's easy enough to replace a vanity but if you rip out a bath, you'll have to deal with waterproofing issues that can add to your costs.
Also, think about the things you can do yourself, such as painting the walls and renovating existing furniture. Check out local junk and charity shops for old mirrors and objects that can be re-worked to add interest to the room. Or you can looking for contractors.
Lastly, spend your money where it shows. Gleaming new taps and fittings can help to transform a bathroom, along with streamlined lighting and new flooring.
Community content is available under
CC-BY-SA
unless otherwise noted.