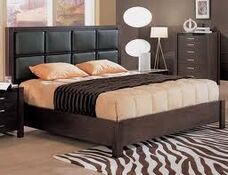 Arguably one of the most important pieces of furniture you'll ever purchase, a bed can often make or break good sleeping patterns. Of course the mattress is key, but catching some z's will be challenging if your bed or headboard shakes, rattles and rolls every time you make the tiniest of moves. To ward off sleepless nights and to give your space some style, it's important to carefully consider which bed will work best for you.
This is one purchase for which you might not want to count your pennies. A high-quality bed is more likely to stay put when weight is applied, which lets you avoid that obnoxious creaking sound whenever you roll over. Though the quality of the bed is important, the style is too. Because it is closer to the ground, a platform bed might help eliminate extra movements, and it is a great addition if you're searching for a more modern feel. You also won't have to buy a bed foundation or box spring for a platform bed, which will save you money, especially if you have a memory foam mattress. If you're looking for a more traditional feel, try a four-poster bed or canopy bed. Besides being romantic and elegant, these sturdy beds are often made of heavy-duty wood, which means they're less likely to move while you're tossing and turning.
A lot of beds and headboards look alike, so look for unique, special details to make your room seem one of a kind. For a contemporary option, upholstered headboards often come with patterned fabric, unique shapes, nailhead accents and tufted designs. For a style fit for royalty, try a dramatic wingback headboard or the soft look of draped fabric or curtains around a four-poster bed. Even patterned, textured or multicolored wood can help your bedroom stand out from the pack.