Ceramic, marble and other types of stone tiles provide a room with an elegant look and a walking surface that's as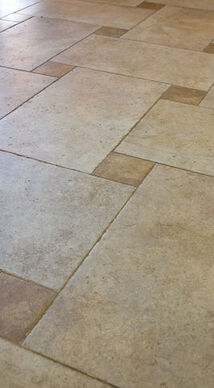 durable as it is beautiful. But, for as long-lasting as these materials are, stone tiles do require some routine maintenance as well as some preventative measures to keep them looking their best.
Weekly Cleaning
Edit
Heavy traffic areas should be wiped down with a clean damp mop at least a couple of times a week. Non-heavy traffic areas will suffice with a weekly mopping. Use only cleaning agents that are pH-neutral and avoid all cleansers that contain chlorine, ammonia, vinegar or acids as these will damage the surface of the tile and stain the grout. Likewise, tile floors should not be cleaned using detergents or soaps because these agents can dull the surface of the tile and increase the risk of mildew development.If you haven't followed the cleaning schedule for a while and heavy duty grout cleaning is required, a professional strength tile and grout cleaner can be used. After cleaning the tile and grout lines, always rinse the floor thoroughly using clean water so you can make sure the cleaning agent has been removed.
Furniture on Tile Floors
Edit
Moving heavy furniture across tile floors will leave unsightly marks or scratches which in some cases are difficult or impossible to remove. To prevent this from happening with your tile floors, install furniture pad discs to the legs of your metal, iron, wood or plastic furniture prior to bringing them into or moving them about the room.
Heavy Traffic Areas
Edit
Place area rugs and entry/exit mats in the areas that see the most traffic in the room. Such spots include the entryway, in front of the kitchen sink or stove — or in front of the couch. The rugs will trap any excess dirt, sand or other debris and prevent them from scarring the tiles in these areas.
Proper Installation Resedues Potential Problems
Edit
When a tile floor isn't installed properly, it will more times than not result in a very problematic floor that will require frequent repair and maintenance. If you are performing the installation yourself, keep in mind these three commonly overlooked measures to reduce potential problems down the road:Wait at least 72 hours after installation before mopping the tiles Allow the grout to cure before applying the sealer Apply a penetrating sealer to porous quarry tiles By following proper installation techniques and practicing routine cleaning and preventive maintenance measures, your tile floor will grace your home with a lifetime of luxury and elegance.     
Community content is available under
CC-BY-SA
unless otherwise noted.