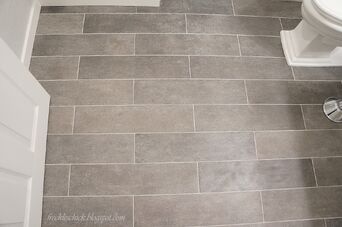 The combinations of colors, styles, and shapes for flooring are endless, and there is a tile for every traditional, contemporary, and modern style-loving person out there. When you're choosing a floor tile, try not to put aesthetic at the top of your list. It can be tempting to automatically choose a style and look at everything else after that. But if a tile isn't durable or of high quality, it will chip and wear in no time, making it lose any aesthetic value it had very quickly. 
Evaluate your lifestyle, and the area that you want to use floor tiles in. Is it a high traffic area? Is it outdoors? Will it be exposed to moisture on a regular basis? Deciding the location, and the type of wear and tear that this tile will experience is absolutely vital before making any type of design decision. 
Materials
Edit
'Vinyl'. This is the most common and most inexpensive type of floor tile. It also tends to be a bit lower in quality than other tile materials, so pay attention to the manufacturer and the overall sturdiness of the product. Choose a vinyl floor tile that's fairly stiff, since it'll be sturdier and wear better. It's also important to pick a tile with a warranty — just in case.
  Ceramic is a great choice for any area that's going to be exposed to moisture (bathroom, kitchen), outside elements (entryway, patio), or a lot of foot traffic. While ceramic tile is definitely more expensive, it will wear extremely well. Make sure there are no flaws in the glaze. If tiles are unglazed, they need to be sealed so they're stain resistant. 

Granite, marble, slate and other natural stone tiles are extremely durable and hard. They are more on the expensive side, and may require some type of treatment, so be aware of what's involved before purchasing them. 
Make sure that porcelain tiles are rated by the Porcelain Enamel Institute. A tile will be rated between one to five. One and two are strictly for walls and countertops, and three to five is for the floor. This rating is based on tile hardness and durability. Porcelain is often chosen as a tile material, because its extremely dense, very hard and resistant to wear and moisture. 
The size and shape of your tile partly depends on the look you're going for. You can achieve a very different ambiance with a set of small mosaic like tiles, and larger white subway tiles. Think about the pattern that you'll be laying these out in, and what will make the most sense. Do you have a square shape set aside? Or are you trying to go for a more intricate pattern? This can help you determine shape, and which size will look best. 
Community content is available under
CC-BY-SA
unless otherwise noted.