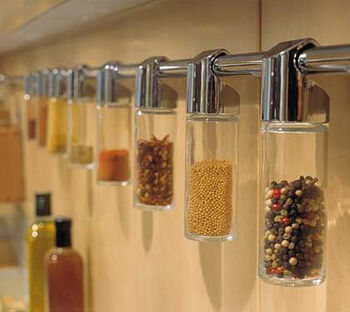 If you're looking for a way to spice up your kitchen, there's no need to buy all-new appliances or redo the countertops; all you need is some fun and practical kitchen accessories . Although it might not seem like much, mixing up your dish towels and bringing in a few new containers and jars can give your kitchen much-needed flavor and flair.
One of the best ways to make your kitchen feel bright and shiny is by changing the color palette. Use accessories — such as oven mitts, pot holders, tea towels and aprons — to bring pops of color to an otherwise dull kitchen. Because linens come in a vast array of prints and patterns, they're a great way to add touches of personality that can easily transition as seasons come and go and color preferences change.
Even though they're primarily practical purchases, countertop food storage containers are also additions to your kitchen decor. Whether they are sleek glass canisters or funky, colorful cookie jars, containers add storage when cabinet space is scarce while simultaneously sprucing up your countertops. Even something as useful as a trash can or dish rack can add a little something extra to your kitchen; just look for a bright color or a unique design.
When countertop space is an issue, look no farther than your ceiling or wall. Paired with a kitchen cart, a hanging pot rack can help make your kitchen more space friendly, and a wall-mounted spice rack or shelves can get spices and cookbooks out of drawers and cupboards. While using every inch of your kitchen is of course useful, storage elements can also bring character by adding interesting visual elements to the room.