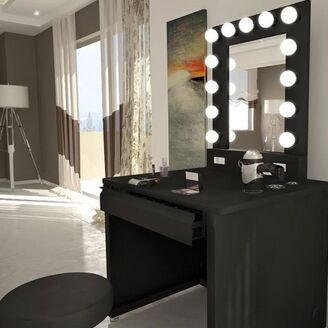 Picking out a makeup mirror can be tough. You want something that's going to help you pluck out that last eyebrow hair, but you also don't want to choose something that's going to make you cake on foundation every time you switch on the light. The best possible way to do this is to test out whatever mirror you want prior to purchasing it. 
A wall mounted make-up mirror is a great choice if you're someone who prefers to apply makeup in the bathroom. Choose an adjustable version so you can decide if you want to sit or stand, and if your bathroom lighting isn't that great, try and find one with a light built-in. Most of these makeup mirrors are a bit more expensive than your standard drugstore mirror, but since they're such a valuable addition to a bathroom or vanity area, the investment is usually worth it. 
A free-standing mirror has the flexibility of moving around wherever you need it. Some free-standing mirror models also come with a LED light, but most of these need to be plugged in, so just be aware of that complication. Also, having a fog-free coating for a bathroom mirror is always a plus. You can avoid the streak-marks that come with wiping it clean, and the makeup mistakes that come with them.