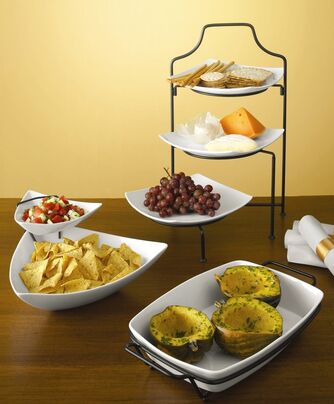 Serveware is a great addition to your kitchen , helping you to do everything from tossing a salad to serving guests chips and dip in style. There are lots of options to choose from, from common items to those that are more specific. In general, think about aesthetic preferences and needs when shopping for serveware.
What Type of Serveware is Available?
[
]
There are many different pieces of serveware that will aid in both everyday meals and entertaining dinner parties. Most serveware sets should include serving bowls, platters, trays and utensils for things like salads, pastas or appetizers. Invest in trivets to protect your countertops from hot dishes, and pitchers to easily serve beverages. Create a nice condiment display with dipping bowls, spice racks cream and sugar servers, gravy boats and stands and salt and pepper shakers. Serveware also includes butter dishes, cake plates and stands, carafes and pitchers, punch bowls, teapots and coffee servers, and wine decanters.
What Styles and Material Should You Consider?
[
]
Serveware styles and materials are quite limitless. Choose wooden pieces for an option that is both traditional and long-lasting; their classic styles will never go off-trend. Or, have fun with it by purchasing colorful, plastic pieces for a retro, funky feel to offset your contemporary kitchen. 
What Speciality Serveware Might Work For You?
[
]
Depending on your culinary expertise, you may want to consider additional serveware pieces to adequately stock your collection. If you're keen on buffets, a warming tray will keep large amounts of food warm at gatherings. A tea and coffee set might be a nice complement to your breakfast table, while a chip and dip set could be perfect for your coffee table during a cocktail party. Other ideas are soup tureens, gravy boats and durable outdoor serveware.
What Sizes of Serveware Should You Purchase?
[
]
This obviously varies per piece, but in general, think about what you'll be using them for. Will you be throwing large parties that will require oversized serving trays and bowls to supply everyone? Or will you serveware be used more often for small family dinners, where smaller sets will supply the perfect amount? Remember: you'll need room to store these items when not in use, so try not to go any bigger than necessary.