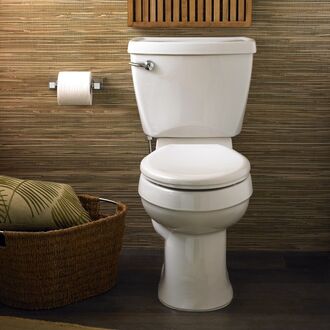 Choosing a new toilet as ur bathroom furninshing is assumed to be an easy decision, but there are actually quite a few things to consider. A one-piece toilet looks more sleek, but you'll have to dig deeper into your pocket. A standard-height toilet may seem like the easy choice, but it may not be comfortable for everyone. There's also the decision about appropriate flushing power.
Before selecting the right toilet for your home, think about the following:
How do You Know the Size is Correct for the Bathroom?
Edit
Measure the rough-in distance: the distance from the wall behind the bowl to the center of the toilet floor drain. Use this measurement to determine the size of your new toilet; it must fit into the space between the drainpipe and the wall to work in your space.
Should You Buy an One-piece Toilet or Two?
Edit
One-piece toilets are one complete unit that are easier to clean and won't leak between the bowl and the tank. They're sleek and stylish and save space, but they're generally more expensive than two-piece toilets, which come with a separate tank and bowl. Be sure you purchase all the necessary parts with the two-piece toilet, as the seat is not usually included with the bowl.
Should You Consider a Wall-mounted Toilet?
Edit
Wall-mounted toilets will save space and eliminate the need for a toilet foot, or base. They're also ideal for transferring from a wheelchair or walker, and easier to clean underneath. They may be more costly, require a thicker wall for mounting, and the drain for the toilet must be on the wall vs. the floor.
What type of toilet bowl should you purchase? Round bowls are smaller and work well in tighter space situations, such as half-baths. Elongated bowls are a longer, oval shape which take up more space, yet tend to be more comfortable.
What Height Should You Choose?
Edit
Standard height is 14-15 inches, but the 16-17 inch models may be more comfortable for you, and are particularly helpful for physically challenged individuals due to the easy accessibility.
Are There Any Space Saving Options?
Edit
Corner toilets feature a top tank in a triangular shape that tucks neatly into your bathroom crevices. High tank-pull chain toilets will give your bathroom an antique feel while freeing up space directly above the toilet.
Which Standard Flushing System is the Best?
Edit
The pressure-assisted system forces water into the bowl when flushed. This reduces the chance for clogs but is noisy, expensive and may require high maintenance. The gravity-flush system uses water weight to generate flushing pressure and a siphoning action to complete the flush. It's quieter and requires less maintenance.
What Other Features Should You Look for?
Edit
Sanitary bars and trapways help your toilet work more smoothly. Sanitary bars block liquid from collecting under the tank at the back of the bowl, while glazed or larger trapways will decrease clogging.
Community content is available under
CC-BY-SA
unless otherwise noted.